"Meet the Experts" aims to facilitate interaction between ECRs and senior researchers in health psychology. Several "Meet the Experts" sessions are organised every year throughout the EHPS conference. These sessions are an opportunity for Early Career Researchers to meet, discuss, and network with senior researchers in health psychology in a friendly and relaxed atmosphere.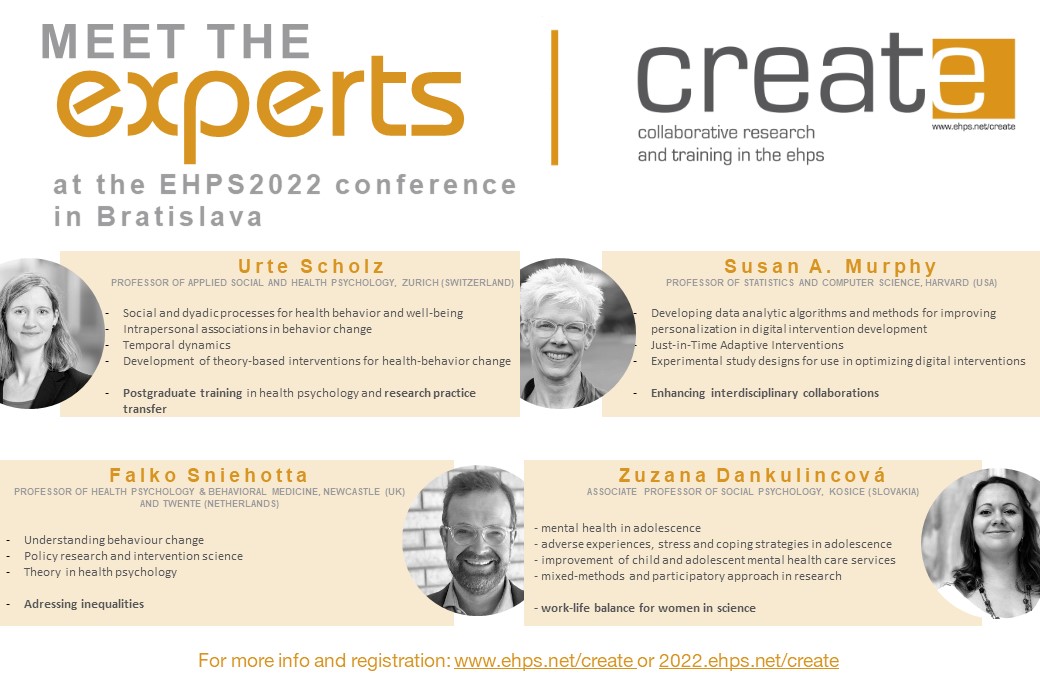 Meet The Experts 2022
The CREATE committee is excited to announce this year's 'Meet the Experts' (MTE) session at the EHPS Conference in Bratislava!
The MTE sessions provide a rare opportunity for early career researchers (ECRs) of CREATE to discuss their ideas and interact with experts – this year's keynote speakers – in a relaxed environment.
Once applications have been reviewed, we will try to ensure that you get to meet the export you are the most interested in. In your application, you can indicate whom of the 4 experts you'd like to meet. To ensure a good fit between participants and experts, we will ask you to write a short statement on why you want to meet with the experts you selected (300 words).
Places are limited. Please note that priority will be given to Early Career Researchers if applications exceed available places.
Sign up here before the 1st of August 2022 
The experts, with their specific areas of interest are:
Prof. Susan A. Murphy, Harvard University, USA
Developing data analytic algorithms and methods for improving personalization in digital intervention development
Just-in-Time Adaptive Interventions that are delivered by smart devices (e.g. smartphones)
Experimental study designs for use in optimizing digital interventions
Enhancing interdisciplinary collaborations, in particular between behavioral, statistical and engineering scientists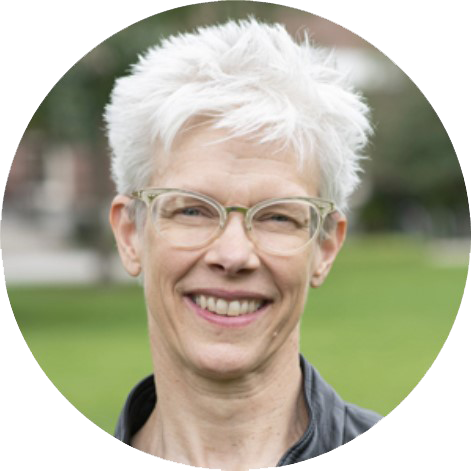 Prof. Falko Sniehotta, University of Heidelberg, Germany
Understanding behaviour change
Policy research and intervention science
Theory in health psychology
Adressing inequalities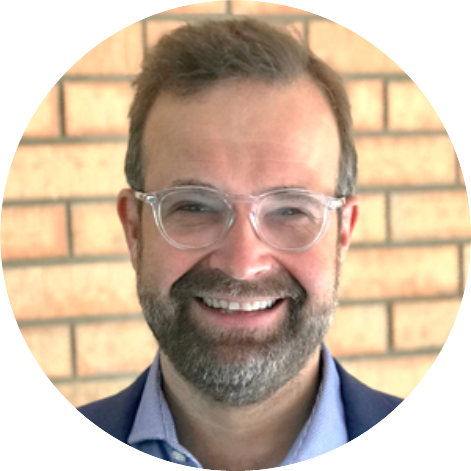 Prof. Zuzana Dankulincová, Pavol Jozef Safarik University in Kosice, Slovakia
Mental health in adolescence
Adverse experiences, stress and coping strategies in adolescence
Improvement of child and adolescent mental health care services
Mixed-methods and participatory approach in research
Work-life balance for women in science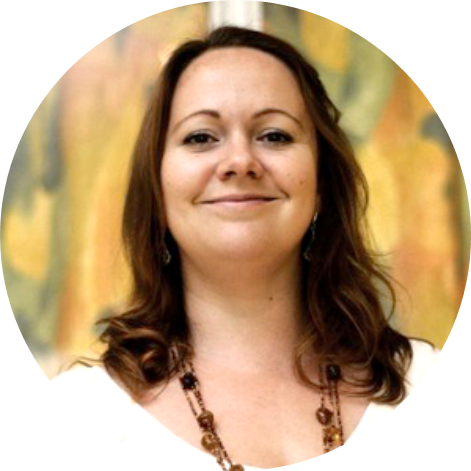 Prof. Urte Scholz, University of Zürich, Switzerland
Social and dyadic processes for health behavior and well-being
Intrapersonal associations in behavior change
Temporal dynamics
Development of theory-based interventions for health-behavior change
Postgraduate training in health psychology and research practice transfer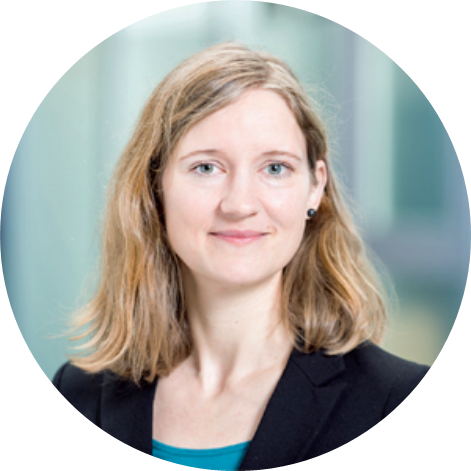 2019
Rona Moss-Moris (UK)
Antonia Lyons (New Zealand)
Mark Hatzenbuehler (US)

2018
Molly Byrne (Ireland)
Alex Rothman (USA)
Jill Francis (UK)
Yael Benyamini (Israel)

2017

Sherry Pagoto ( USA)
Fabio Lucidi ( Italy)
Rory O'Connor (Scotland)
2016

Karina Davidson
Aleksandra Luszczynska
Marie Johnston
2015

Ronan O'Carroll (UK)
Howard Friedman (USA)
JoAnne Dahl (Sweden)
2014

Karen Rook (USA)
Suzanne Skevington (UK)
Ruut Veenhoven (The Netherlands)
Adrian Taylor (UK)
2013

Mark Conner (UK)
Stan Maes (NL)
Niall Bolger (USA)
Crystal Park (USA)
2012
Carol Ryff (US)
Kavita Vedhara (UK)
Charles Abraham (UK)
Johan Denollet (NL)
2011

Christina Maslach (US)
Tracey Revenson (US)
Robbert Sanderman (NL)
Lucy Yardley (UK)
2010

Michelle Fine (US)
Michael Murray (UK)
Suzanne Segerstrom (US)
Bas Verplanken (UK)
2009

Linda Cameron (NZ)
Denise de Ridder (NL)
Robbert Sanderman (NL)
Paschal Sheeran (UK)
Lucy Yardley (UK)
2008

Charles Abraham (UK)
Blair Johnson (US)
Ralf Schwarzer (DE)
Suzie Skevington (UK)
John Weinman (UK)
2007

Michael Diefenbach (US)
Marie Johnston (UK)
Hannah McGee (IE)
Herman Schaalma (NL)
Wayne Velicer (US)
The consultation sessions are 30-minutes long and either one-on-one or in small groups. The consultations aim to respond to the needs of each participant and include the provision of advice on:
Research perspectives and ideas encouraging research originality
Issues relevant to study design such as research tools selection and outcome measures
Combining clinical practice with research and developing and combining interventions with research
Publishing in scientific journals
Important references and other materials
Applying for and securing funding
Feedback from previous years:
Feedback from previous years showed that these sessions substantially exceeded participants' expectations. They found the sessions to be extremely useful, of high quality and ideal length. You will find some of their comments below:
'… extremely valuable opportunity for young researchers … hope it goes on with more and more experts continuing to donate their valuable time to such a worthwhile course …'
'… very interesting and fast-paced … particularly liked the one-to-one sessions … '
'… Keep on doing them! …'
'… Absolutely great talk with an amazing atmosphere …'