The Local Organizing Committee would like you to enjoy both the proceedings of the conference and your stay in Bratislava. So we got together and compiled a list of our recomentations for places to eat. We hope hope that this list, though beeing far from definitive will offer everyone choices of their taste and budget.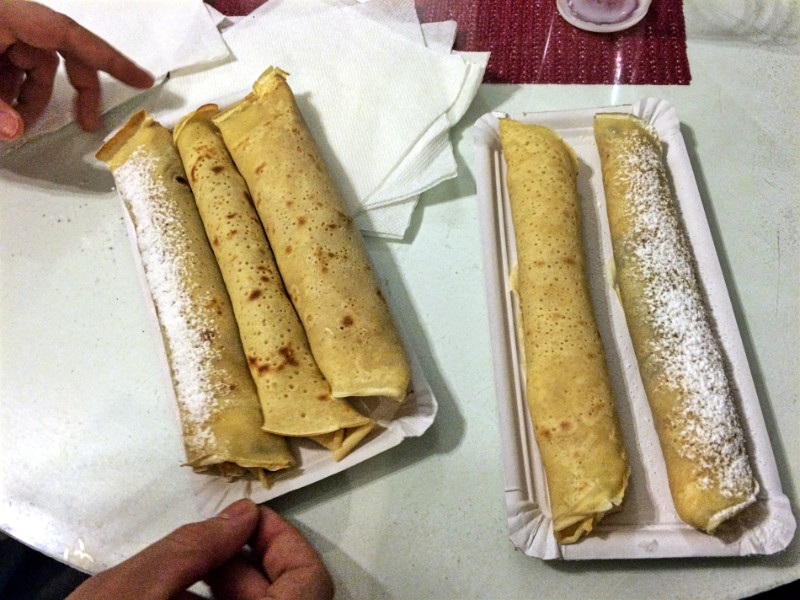 Lacinka Palacinka
Šancová 18
Offering sweet or savoury options of traditional Slovak palacinky (halfway between crêpes and pancakes), the small and shabby bistro close to the Central Train Station does not do websites or social networks, but there is no need, every resident of Bratislava knows the place that tastes like a childhood weekend at grandma´s.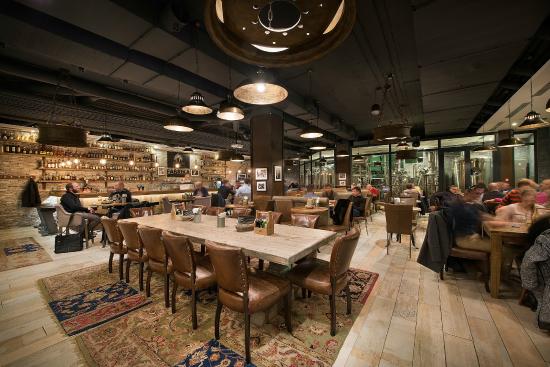 Fabrika The Beer Pub
Štefánikova 4
Close to Crowne Plaza, this restaurant brews its own beer but they also have Pilsner Urquell on tap. This is the only place in town where my friend, an over-critical professional beer-brewer, ever ordered a second glass. The food is also nice. And peanuts, there is always a basket of peanuts on the table.
By showing your conference name badge you will get a large F12 Lager beer or soft drink free of charge, with every order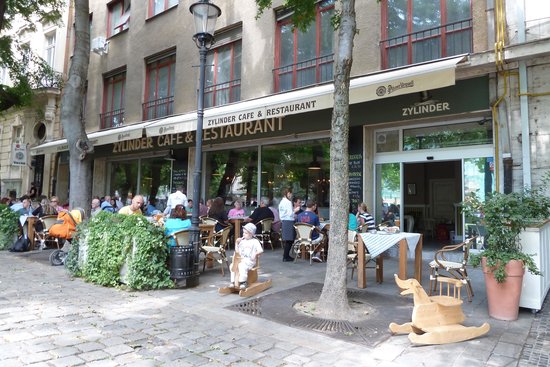 Zylinder
Hviezdoslavovo námestie 19
This is the real taste of Bratislava: a menu where Austrian schnitzels, Czech broths, Hungarian goulash and pörkölt coexist side by side with Slovak halušky or even items introduced by Napoleon´s soldiers. Check out the Tafelspitz Beef Round: this is the true taste of Central Europe. Warning: avoid if feeling vegan.
BISTRO SOHO,
Laurinská St. 
Not far from the main university building at Šafárikovo námestie, this bistro offers Thai food, including vegan and gluten-free options and is a great place for project planning. I come here mostly with psychologists and educators, and the lunch is often followed by a great project idea.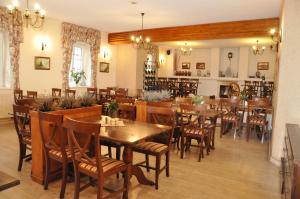 U SRNČÍKA
 Devín 
Visit the outlying boroughs of Bratislava (by bus, bike, boat or on foot). Devín is one of them, a village incorporated into Bratislava, lying at the Austrian border and the former iron curtain. It's draw is a combination of history and nature. A lunch at Srnčík´s, enjoyed under a chestnut tree makes one think of a Sunday family outing from a century ago. You can try traditional Slovak cuisine like bean soup, venison goulash or fried smoked cheese, or go for something "less exotic" (and also vegetarian friendly).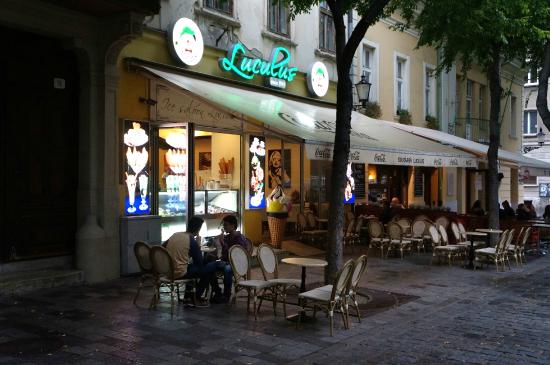 LUCULUS
Ice Saloon at Hviezdoslavovo námestie
Simply a must go for ice-cream lovers in August. Enough said.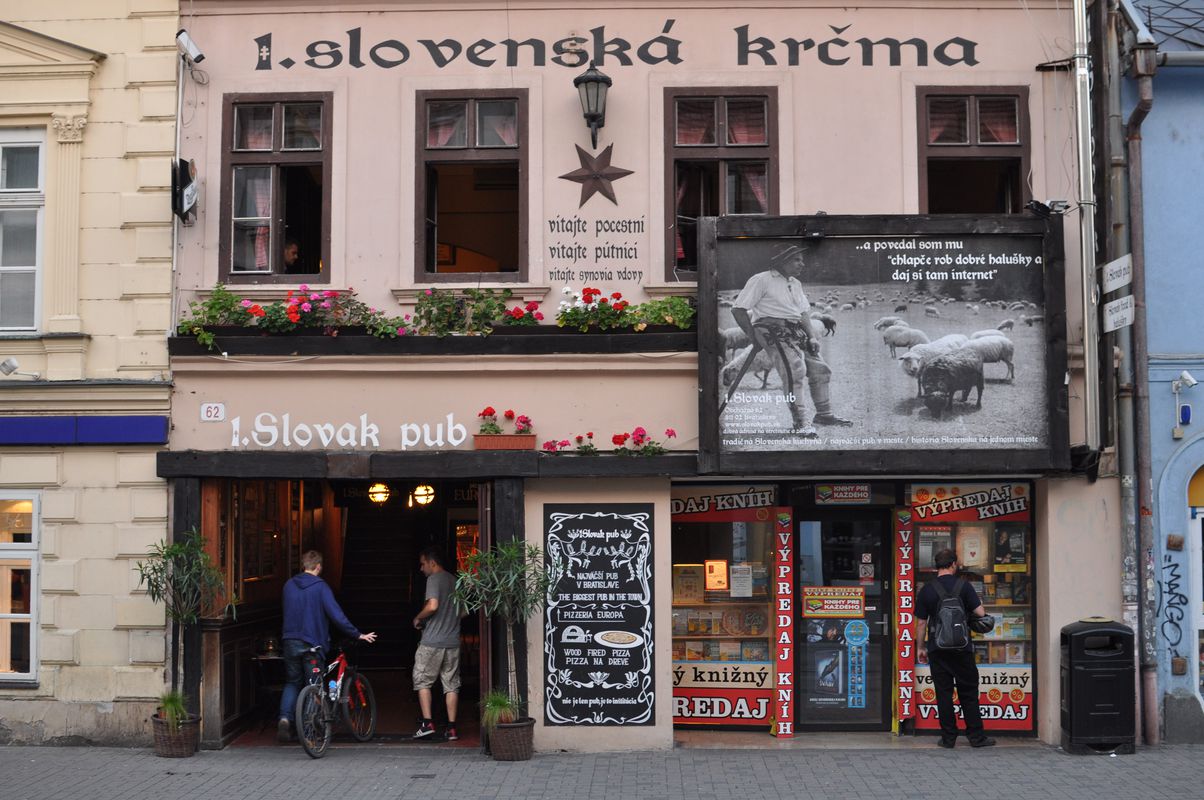 Slovak Pub
Obchodná 62
Squeaky wooden floors, dim lights, traditional food and decor, crowded but cosy rooms dedicated to prominent figures of Slovak history, culture and folklore. Their famous garlic soup in a loaf of bread will certainly keep the vampires away.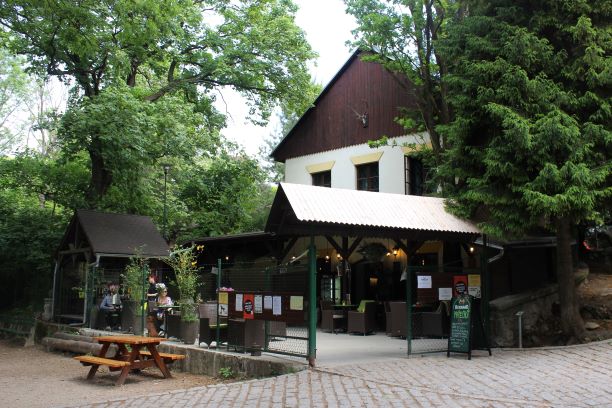 Horáreň
Lesná 1 or Nekrasovova 2059/12
What used to be a hunters' lodge is now a café with a terrace, set in Horský Park (which Google translates as a "Mountain Park" even though there are no mountains, except a mountain of steps). This is a good place to visit with kids because there is a playground, a community centre, and an outdoor art installation. I always stop by on my walk from the Slavín WWII memorial to Horský Park.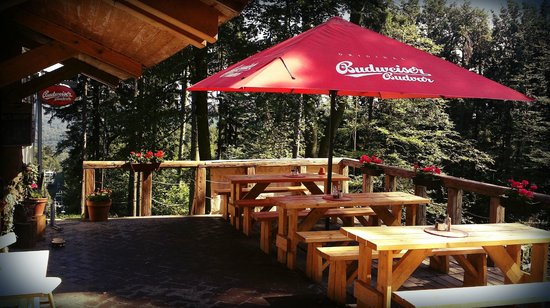 Bufet Horná Stanica
Cesta na Kamzík
Kamzík is a forest recreation area in the Little Carpathians, which I visit every single time I'm in Bratislava. It's great for hiking, cycling, and running, if you're after a hilly trail, and there's a nice outdoor playground for kids at the very top. There are several places I'd recommend for a meal.The Bufet Horná Stanica cafeteria is a hidden gem. It is not the easiest to find if you don't know your way around, but the sound of the cable car will guide you to it – if the car happens to be operating, that is. Horná stanica translates as "Summit Station", which means you can get a lift here if you'd rather avoid the lengthy climb from the Železná Studnička valley – itself a fantastic recreational area with amenities for families with kids, and also a great spot for hiking! You may need to do some planning though. Another way to reach Kamzík is by bus from the Central Train Station area, plus a short walk. This place is very popular and often crowded, but the Koliba Expo and Shoppa restaurants are good options offering traditional food and decor, if you don't mind paying a bit more. The Attitude restaurant up the iconic TV Tower offers great views, but it will also take your wallet for a hike.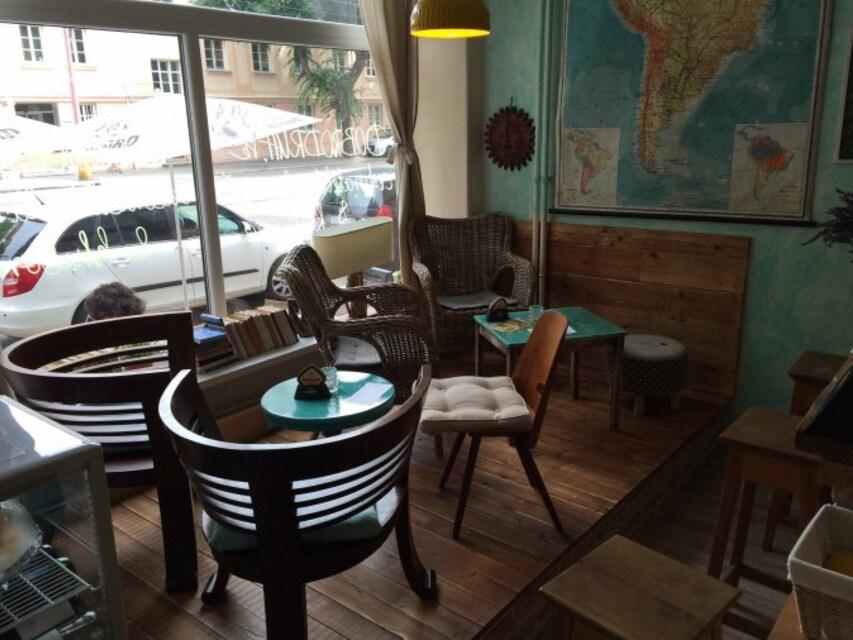 Dobrodruh
Vajnorská 1306/3
Someone's already mentioned the Kruh Bakery (I second that!), so I'll add café Dobrodruh further down the street. One of my favourites for great atmosphere, fruit wines, tasty "bratislavské rožky" pastries, and travel inspiration. Dobrodruh means "adventurer", and the café frequently hosts travellers talking about their experiences from traveling around the globe. Anyone can give a talk, so if you've had enough of the formal conference presentations and want to talk to people about the exciting places you've visited, these folks would love to have you!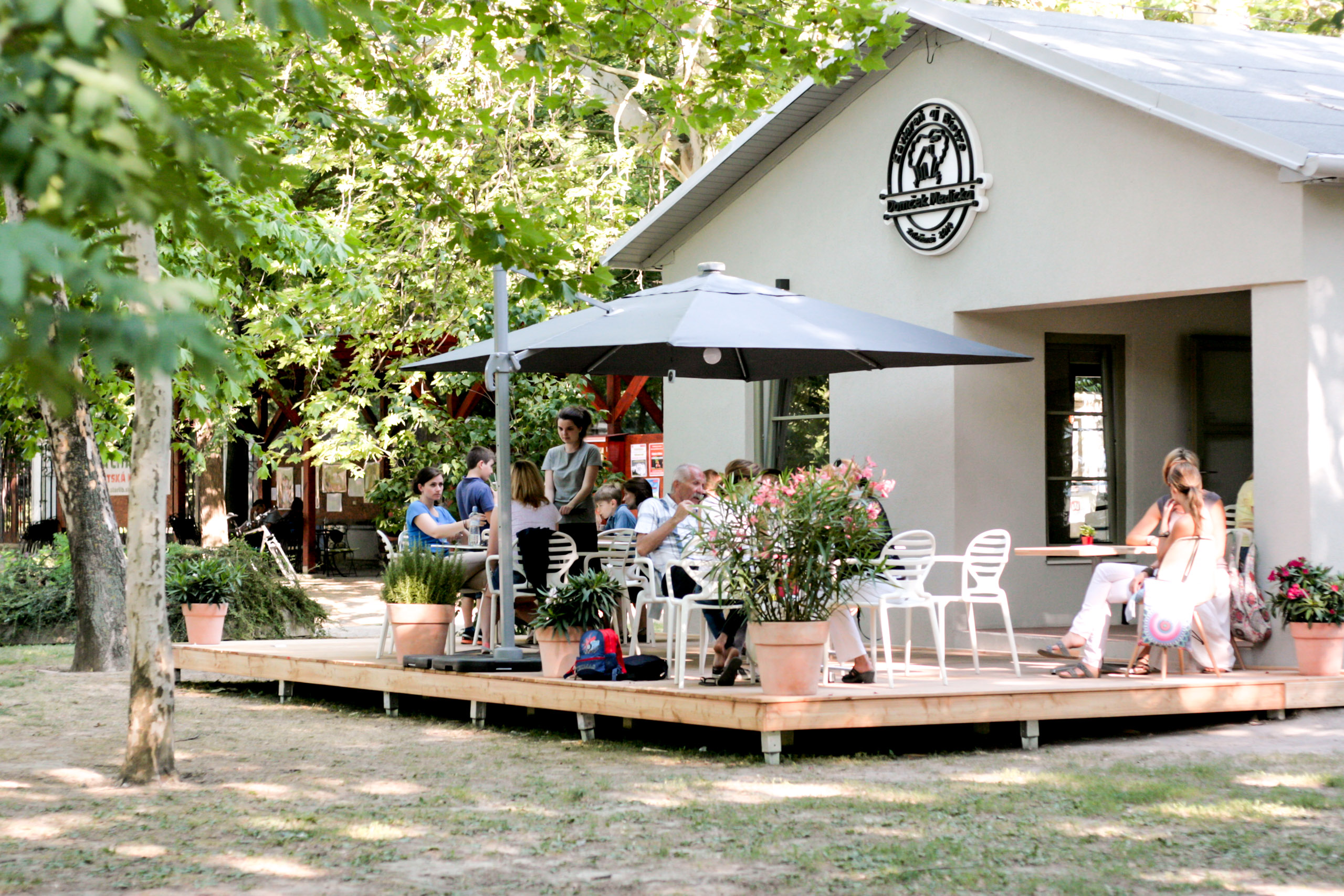 Domček Medická
Poľná ulica
This is a sweet and cosy cafe within walking distance from the city centre for those who like to chill in a park setting and/or anyone with kids. There is a playground and a dedicated outdoor "Čitáreň" – a place to read, often with a few books available.
By showing your conference name badge you will get an espresso, espresso lungo, americano for a discounted price of 1€, cappuccino for 1,50€ or affogatto for 2€ after your order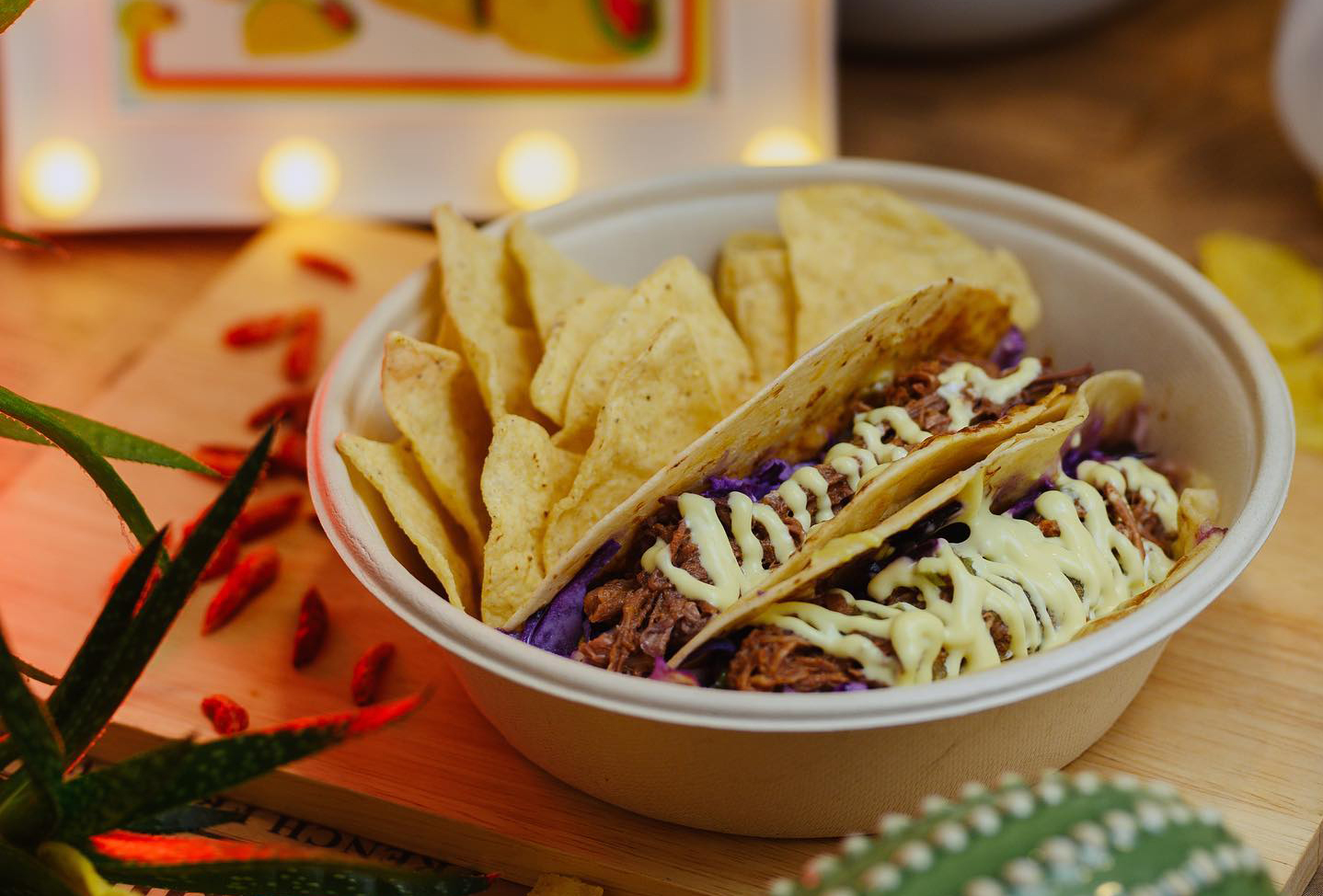 Kaliforňan
Tobrucká 5
Kaliforňan offers flavours of the world in a bowl, and is like California itself – the ultimate "melting pot". Here, though, you can mix and match the ingredients that go into your meal.
The meats and vegetables are all sourced from local, sustainably managed farms. Kaliforňan cooperates with local farmers to get the best quality at the best price. What's more, you can also make your bowl completely vegetarian or vegan.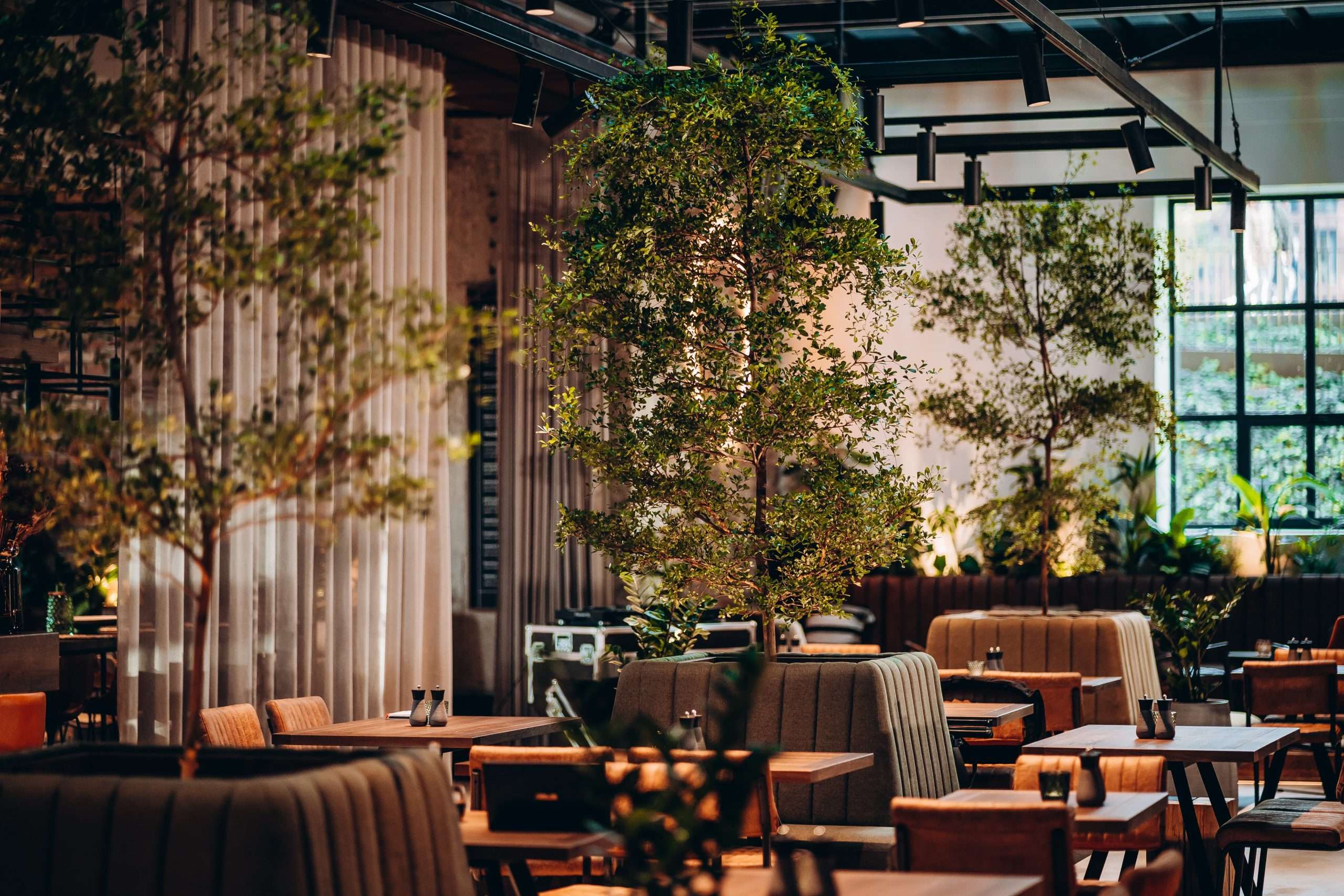 WERK
Bottova 1 
Werk boasts a distinctive experience in an extraordinary setting. The space offers breakfast, lunch, dinner or drinks. The menu varies during the day, so you can always expect a unique gastronomic experience.
What's more, it is situated in the 'Jurkovič Heating Plant', which is one of the last remaining historic buildings from the golden era of industry in Bratislava. The building was likely designed by the father of modern Slovak architecture, Dušan Jurkovič. Although it was bombed during World War II, it was later renovated and its historic significance preserved.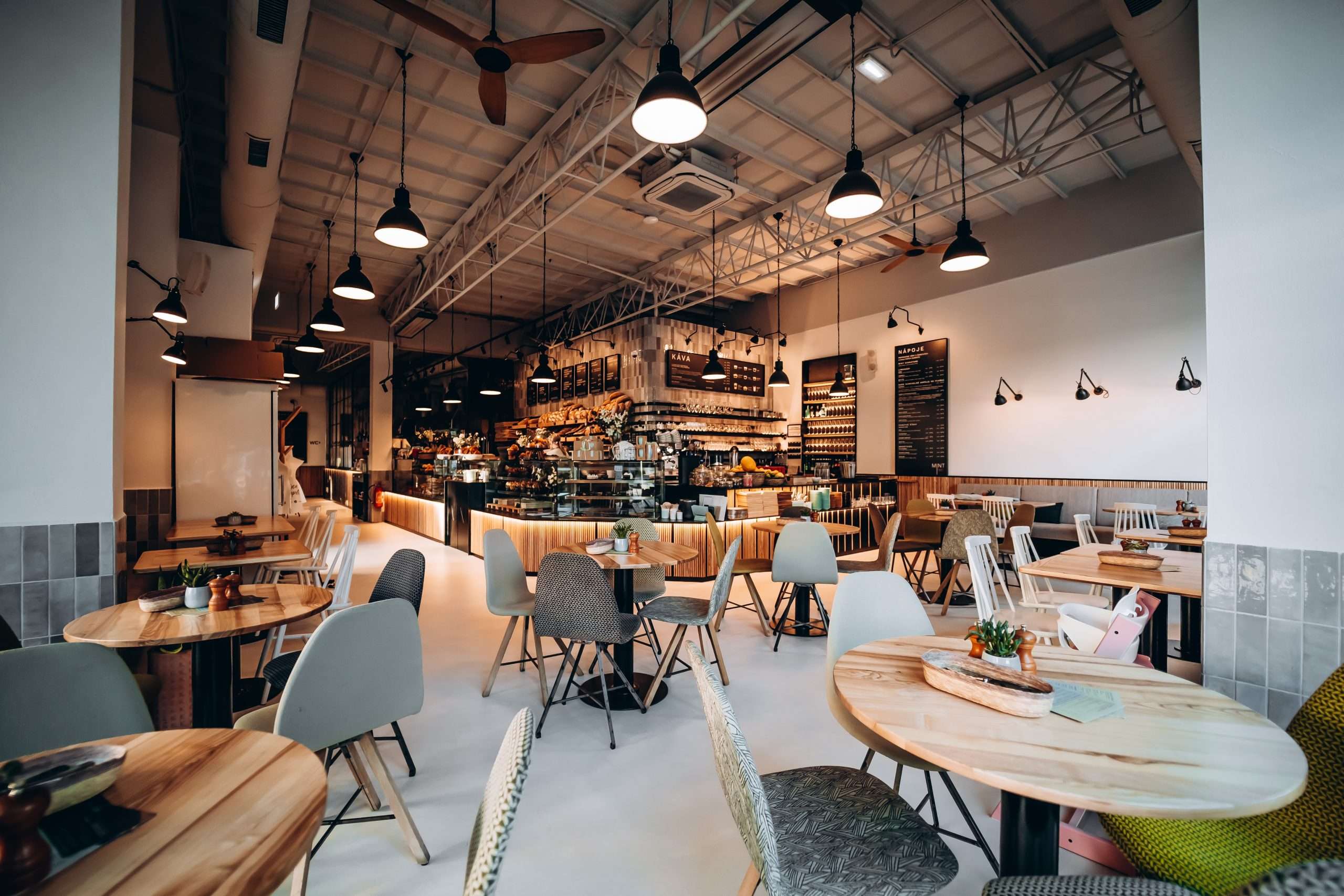 MINT
Svätoplukova 2a
Mint Pradiareň is located in a newly developed area of Nivy, in the renovated industrial historic building named Pradiareň 1900. Mint offers coffee, artisanal bakery products and traditionally prepared food and drinks. Do try the takeaway fresh sourdough focaccia. Mint makes its own coffee, croissants, sourdough pizza, pasta and sells artisanal products in its own shop. You can either enjoy the indoor seating in a modern, renovated space, or bask in the sun on the outdoor terrace.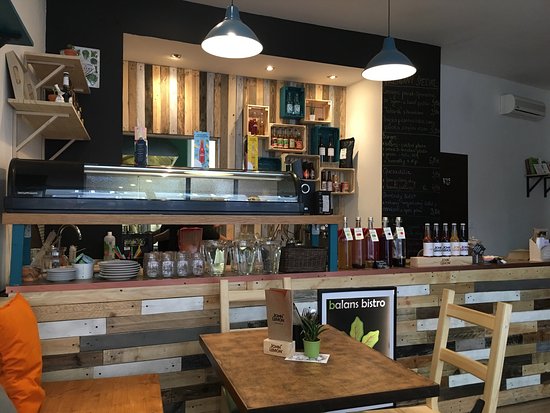 Balans Bistro
Jozefská 2989/23
This vegan bistro offers a wide variety of vegan dishes that could easily convince even a die-hard carnivore to forgo the meat-based diet. Try the classic Balans burger and let the great flavours enchant you, while doing something for the planet. You can also try the craft beers or vegan desserts. In addition to the fresh interior, seating is available in the courtyard garden.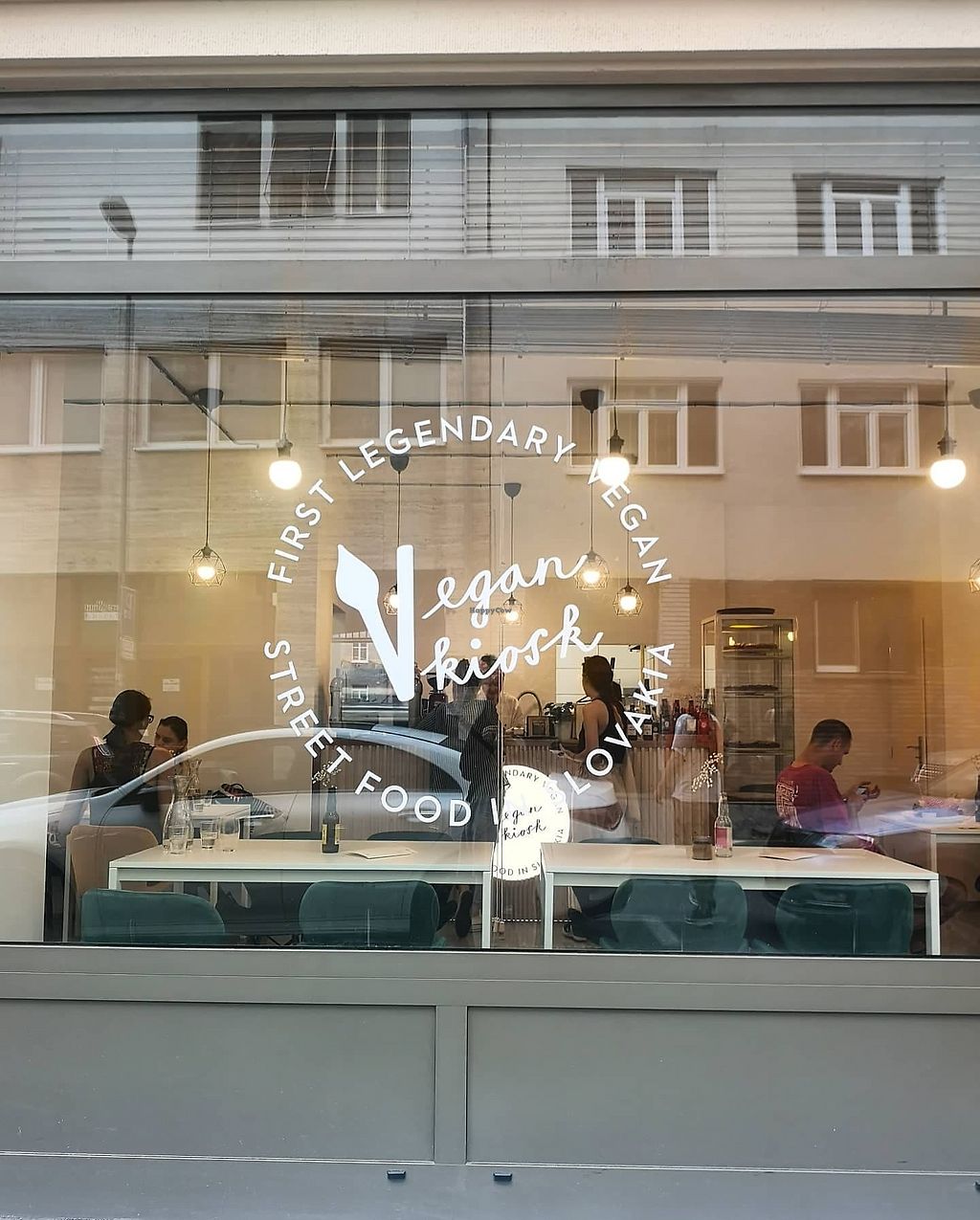 Vegan kiosk
Grösslingová 11
Located close to the main building of the university, in a quiet side-street near the Blue Church, this vegan kiosk offers food made from local and seasonal ingredients. It is the first vegan street food establishment in Slovakia and has daily specials and vegan desserts.
By showing your conference name badge you will get a welcome drink: 1dl draught prosecco or presso/lungo for free after your order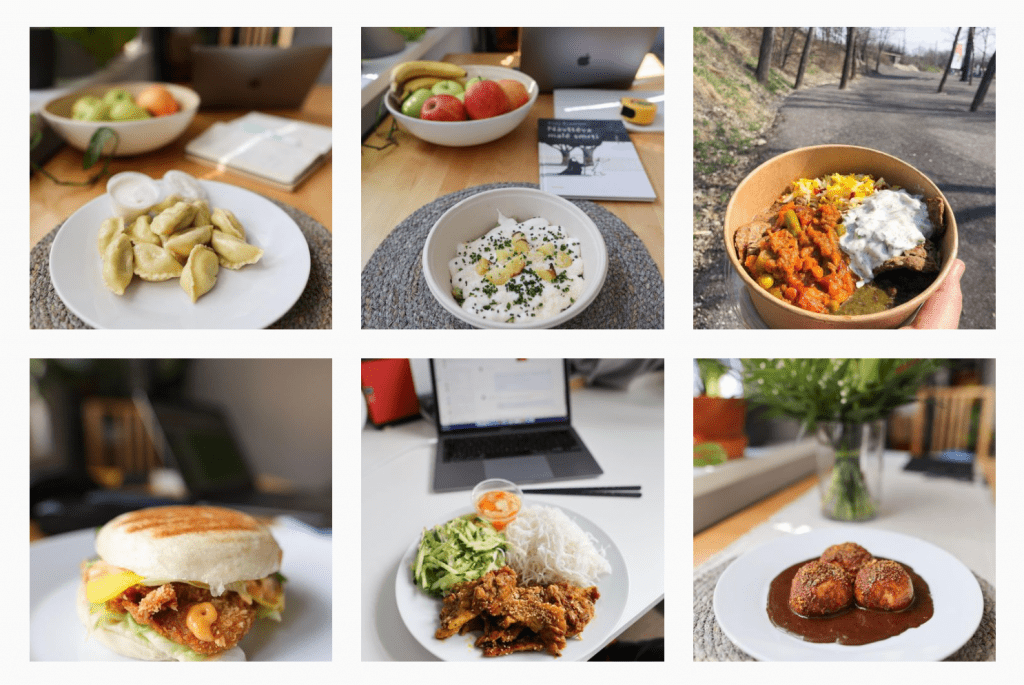 Riverbank
Dvořákovo nábrežie 6
A high-end restaurant run by Jaroslav Žídek, a top Slovak chef, serves the traditional cuisine of Central Europe with a fresh, modern twist and great plating. Slovak, Czech, Austrian and Hungarian dishes can be enjoyed here, including amazing traditional desserts.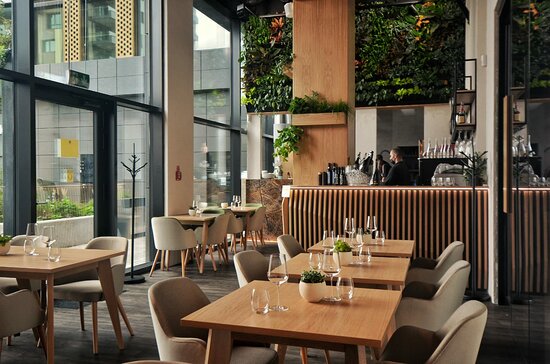 Bistronomy
Zadunajská cesta 348
This place is a bit further from the city center, but it's definitely worth a taxi ride. Young chef Martin Miklošík is in charge here, serving very creative Slovak tradition-inspired dishes from local ingredients. The only long-distance ingredient here is the fantastic fresh truffle.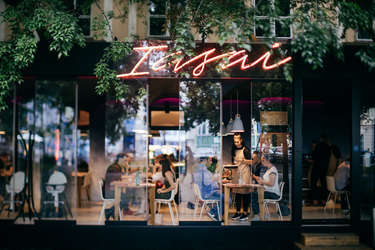 Iasai
Hviezdoslavovo námestie 172
A hip place in the heart of Bratislava serving Asian fusion dishes with fine dining plating. All fish is fresh. Tomáš Lysý is the head chef here and the best way to enjoy oneself here is to be seated at the "bar" in the middle of the main room with the cooks preparing meals right in front of you.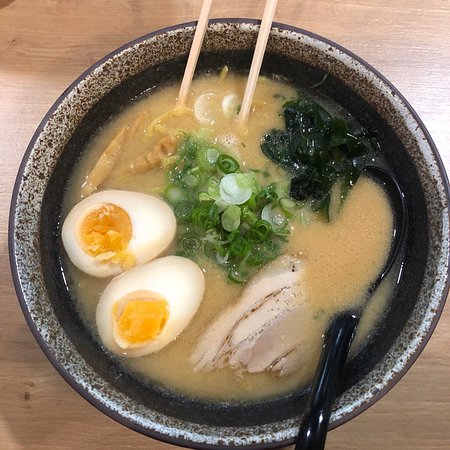 Ramen Kazu
Panská 244
This is one of the best ramen restaurants in Europe, with Japanese chefs and a great level of authenticity. The main broth is chicken based with shio, shoyu and miso versions of tare. Fantastic karaage and Takoyaki can also be enjoyed here. People usually don't use them, but the best seats in the house are, of course, at the "bar" where you can watch the chefs prepare the bowls.
Fach
Ventúrska 10
A small bistro with its own great bakery and a very fresh Scandinavian vibe. They serve great breakfast and a simple short list of lunch meals. Traditional Slovak creamy dill bowl is usually the best option.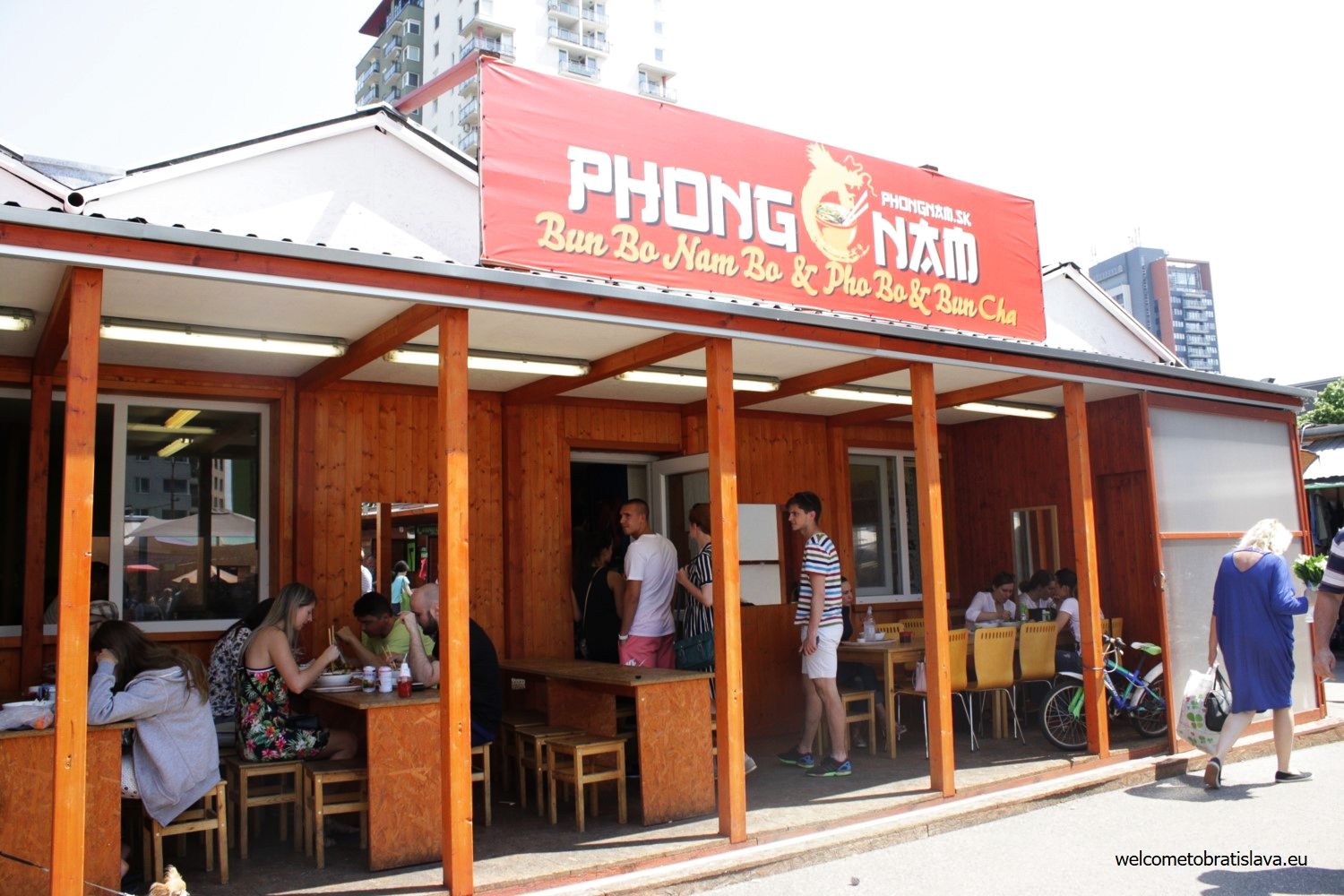 Phong Nam
Miletičova Market
Probably the most legendary bistro in Bratislava which launched the proliferation of Vietnamese restaurants all around Slovakia. Authentic from the get-go, the very dish that started the Slovak love story with the Vietnamese cuisine is Bun Bo Nam Bo from Phong Nam. Recently, the owner began to introduce new amazing (and huge) dishes. Worth a taxi ride.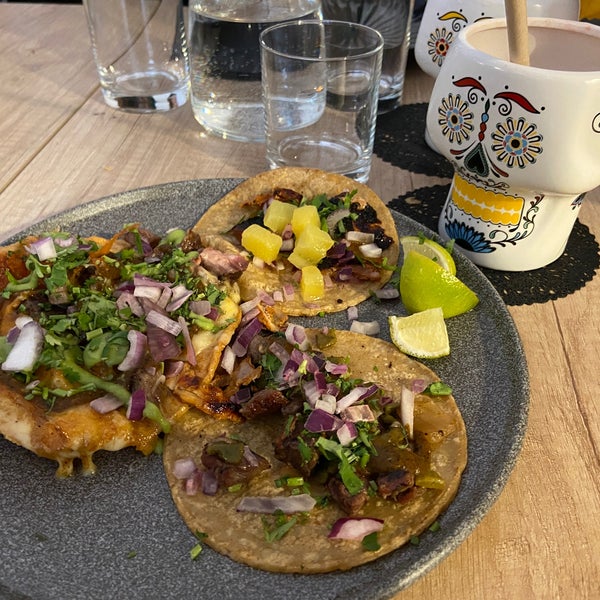 Mezcalli
Námestie SNP 1
Currently the best tacos joint in the city. The dishes prepared by an authentic Mexican chef are very colourful and creative, and Mezcalli offers several non-traditional options of great tacos on corn tortillas. Don't miss the great guacamole and the house-made Tepache drink.
By showing your conference name badge you will get a Special Surprise after your order
Quinsboro
Obchodná 48
You would never guess it, but Bratislava is one of the best cities in Europe to enjoy hamburgers. This is because some of the ground-breakers became extremely popular, encouraging more to open. Quinsboro belongs to the second wave, serving very American paper-wrapped burgers in tender buns, oozing with sauces.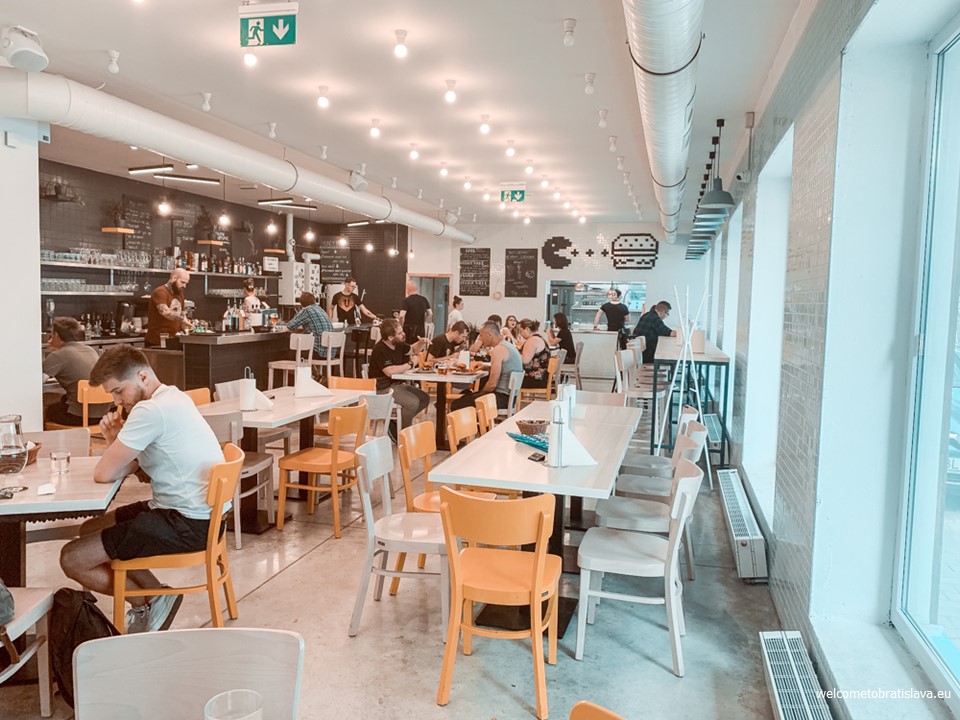 Roxor
Šancová 19
Another of the cult burger places, Roxor, was considered by far the best burger joint in Bratislava for several years before the second wave of burger restaurants emerged. It is still one of the best, with huge and rewarding sandwiches and some of the best French fries you've ever eaten.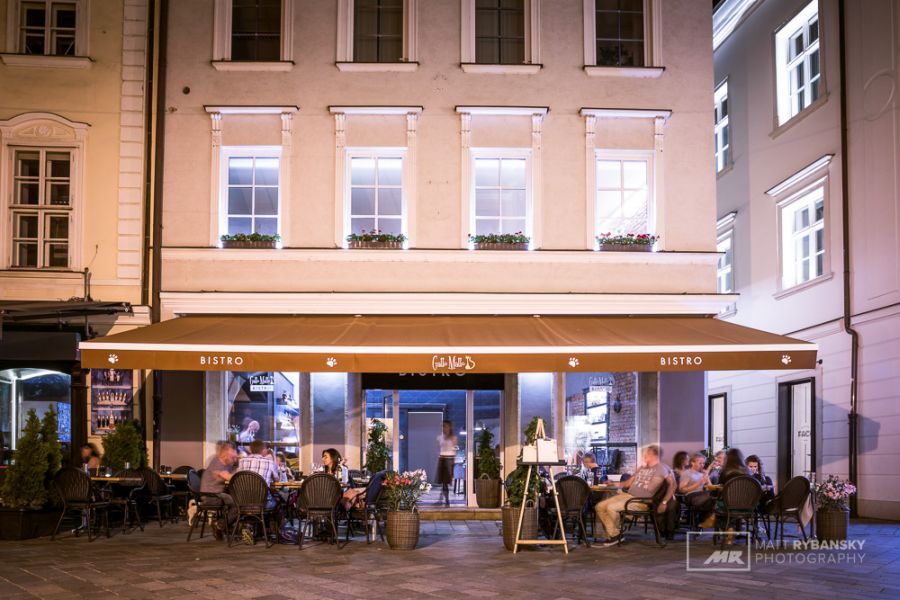 Gatto Matto Ristorante
Panská 17
Bratislava has a long tradition of Italian restaurants. They were the first to introduce Slovaks to foreign cuisine after 1989, although back then they were mostly owned by Albanians. Not all pizza and pasta places are fantastic, but the authentic Italian Gatto Matto Ristorante certainly is. Make sure you book a table in advance.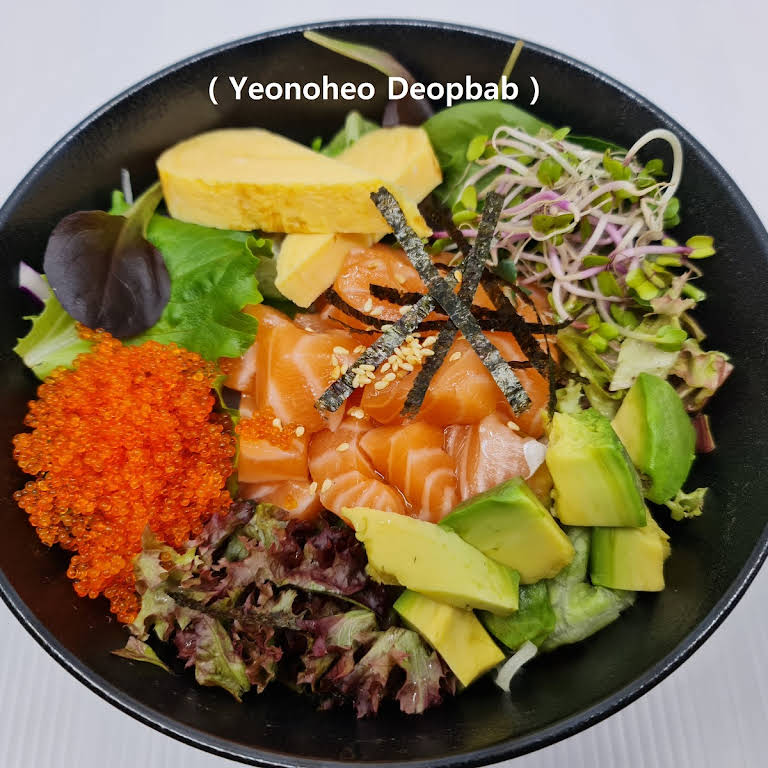 K-Bab by Maehwa
Štefánikova 14
Bratislava has always had a great Korean place, and usually not just one. This Korean-owned restaurant on Štefánikova street is a spin-off of the much bigger Maehwa, located on the outskirts of Bratislava. It serves a "best of" of Korean dishes, including all the classics like the fantastic Bulgogi Bibimbap.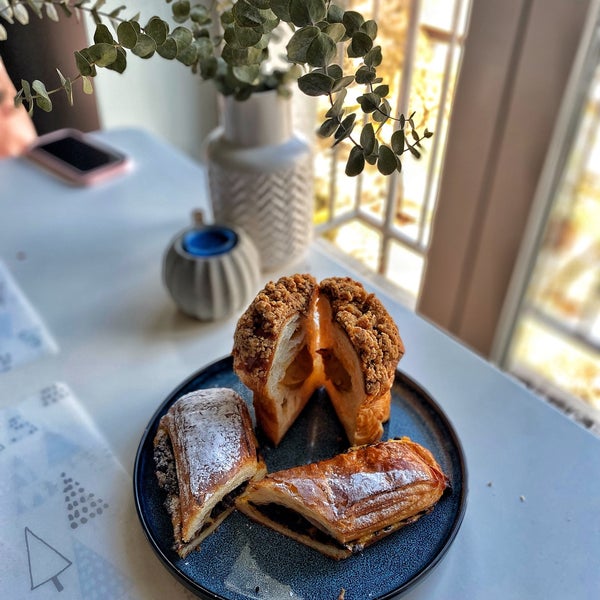 Kruh Bakery
Vajnorská 21
Right now, Bratislava is in the middle of a great artisan bakery and Kruh on Vajnorská street is the bomb which set off the chain reaction. The place serves a variety of breads, croissants, French butter dough specialties, Roman pizzas and other amazing pastries. On Saturdays they sell specials to a long line of customers queueing outside.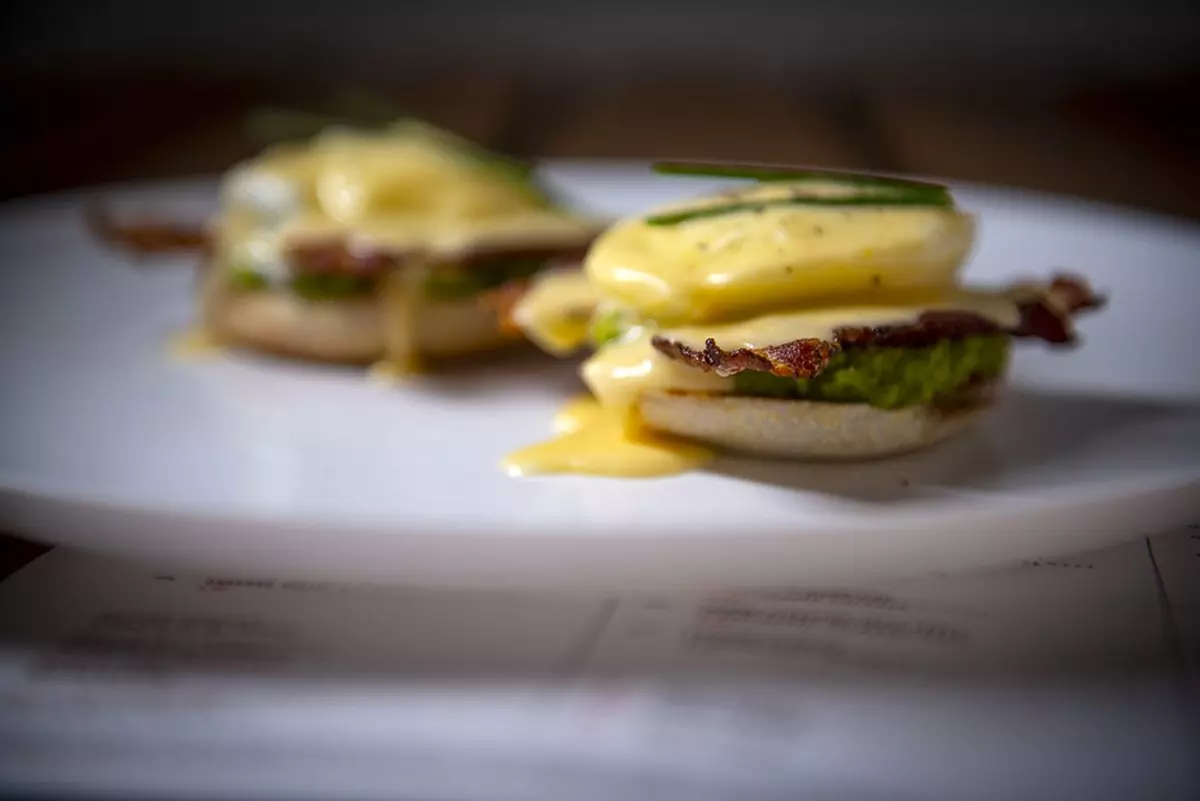 Bistro 24
Štefánikova 24
This relatively new place sports simple design and interior and offers meals influenced by the traditional dishes of communist and pre-communist Czechoslovakia. The bistro usually has a good selection of breakfast options, a staple dish, a weekly special and a daily special.
By showing your conference name badge you will get a Free cheesecake dessert with lunch or evening menu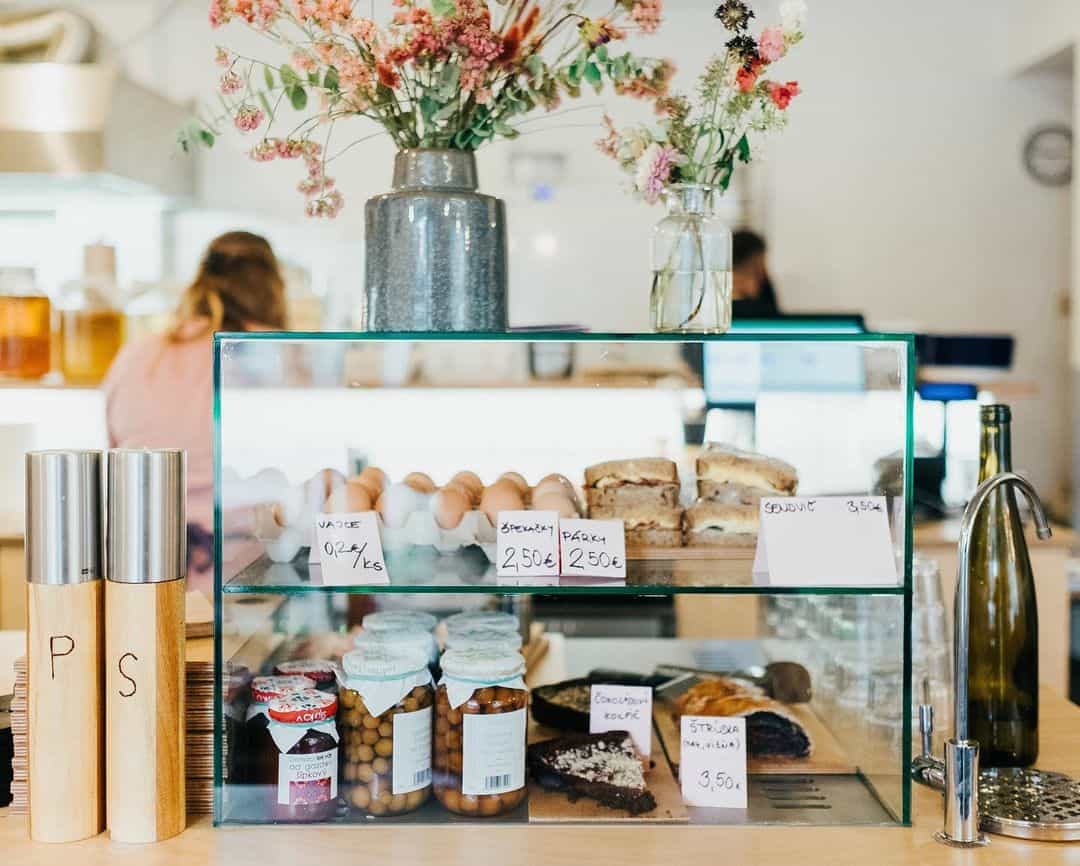 Otto!
Grösslingova 26
Another of the typical new places popping up around Bratislava: a simple bistro with a good atmosphere and a tasteful interior, and a reasonably-sized menu full of great, creative dishes. The thing to do here is ask for a pairing of food with natural wines which are this place's specialty.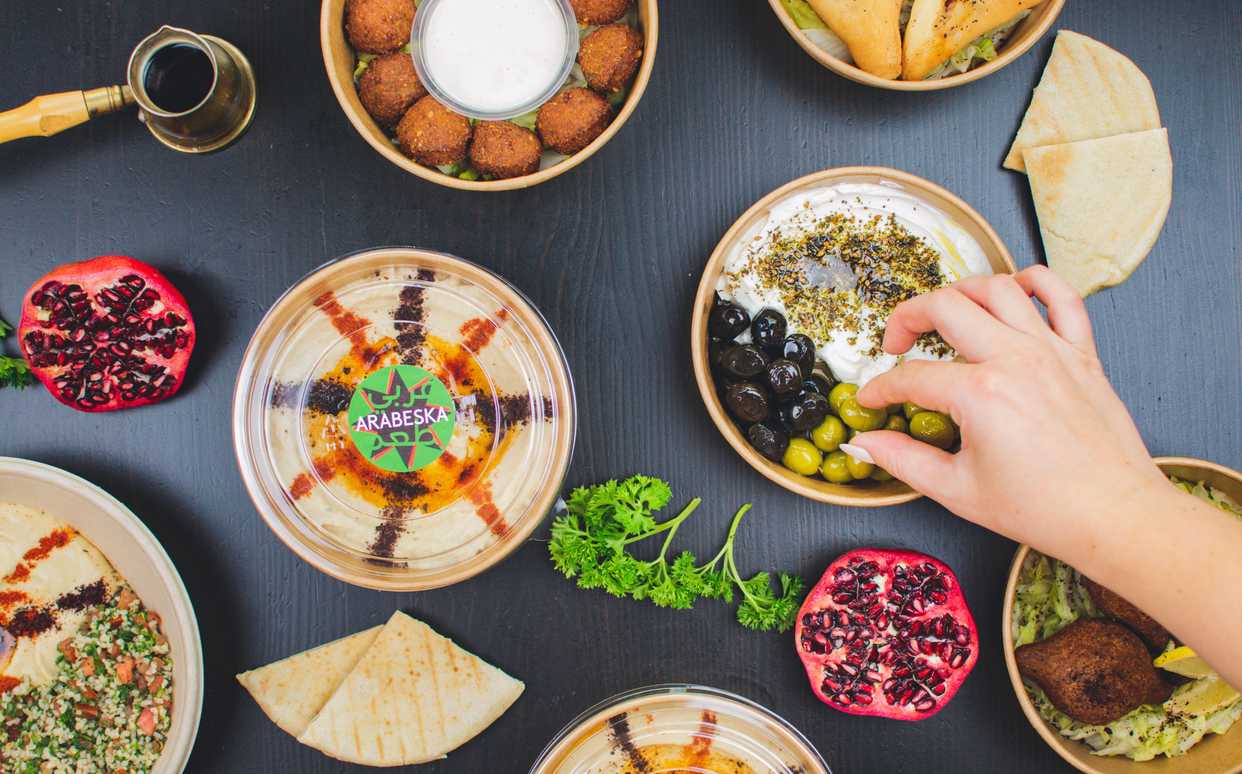 Arabeska
Štúrova 8
Middle Eastern cuisine in Bratislava is usually represented by döner kebab and falafel stands. Very few of them are memorable for offering anything more than a quick bite to chase away the hunger. The father and daughter-owned Arabeska is stands out as probably the best of them, offering a great variety of Arab and Middle Eastern dishes, including a number of specials that you won't find anywhere else.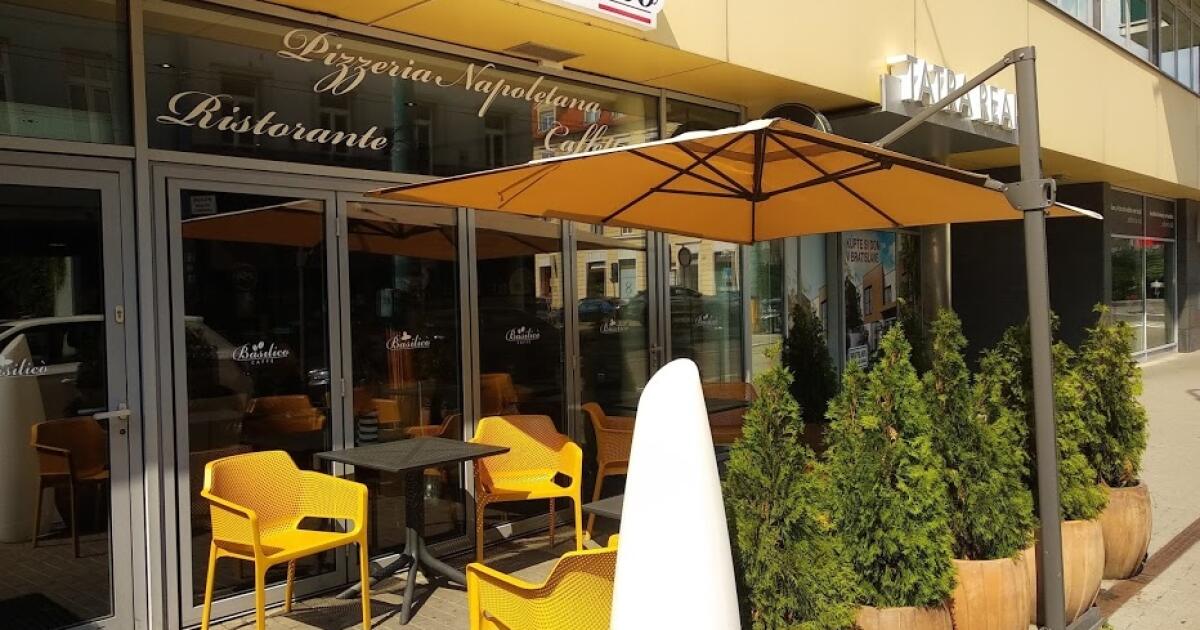 Basilicó
Dunajská 25 and Župné námestie 9
You can get several types of pizza in Bratislava. The thin-crust variety is the favourite, and it has been enjoyed by residents of Bratislava since the end of the 1980s. The second most represented type is the Neapolitan pizza, popularized almost single-handedly by Basilico. While it may not be the greatest place to have pasta, it certainly is a great one to enjoy pizza.
By showing your conference name badge you will get a free coffee after each meal order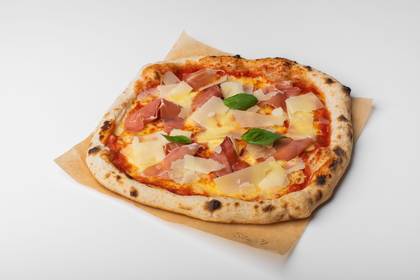 Slajs
Špitálska
Awesome Neapolitan pizza can also be obtained from a stand next to the vast and ancient shopping mall at Kamenné square. Takeaway-only, but with great dough and creative toppings.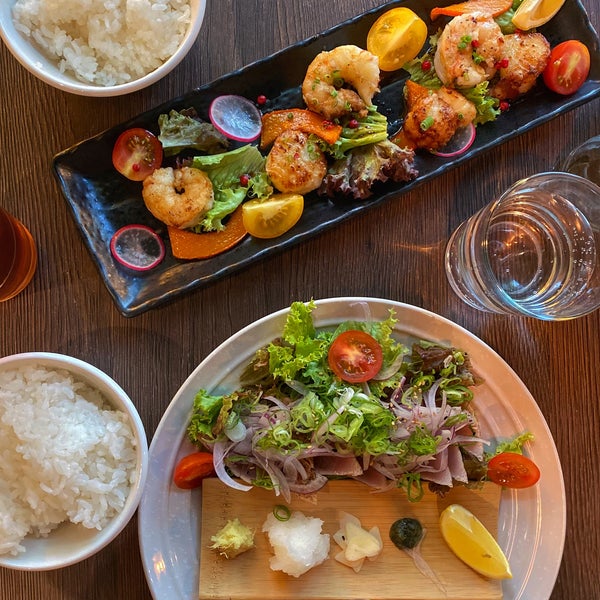 Izakaya Kansai
Miczkiewiczova 6
The Japanese cuisine in Bratislava is usually limited to sushi, udon bowl and ramen joints. This place is the best to enjoy classic Japanese food of different varieties, representing the izakaya culture. The best time to visit is during the after-work hours.